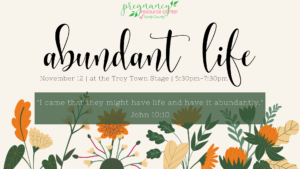 Join us for the 2020 Montgomery County Fall Banquet
The Mission of the PRC is not just Pro-Life, but Pro-Abundant Life. We strive to be a voice for the unborn, but we are also here for their families and we know that the best thing we can do for this family is share the Gospel with them.
Join us on November 12th at the Troy Town Stage (225 Smitherman St, Troy, NC 27371) to explore and celebrate the meaning of Abundant Life! Enjoy dinner from some great food trucks, free dessert provided by the PRC, corn hole, and a fantastic program featuring Daniel Ritchie!
5:30pm–Food trucks open; dinner; corn hole
6:30pm–Program begins
7:00pm–Closing & dessert
If you live in the MC area and would like to learn more about who we are and our mission to your community, this is a great opportunity to do so! Get your church, Bible study, friends, or family to join us as well as we strive to be a pro-life presence in the community that evening.
Reach out to Abbey Wheeler with any questions about this event.